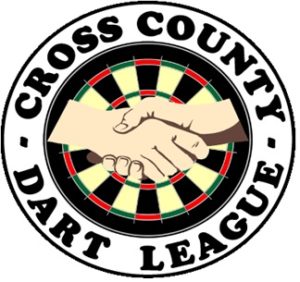 ************************************************************************
Spring 2020 Week 3 Standings and Week 2 Stats are now posted.
******
The Spring 2020 Season has now begun.  Please note that there are TWO sets of schedules this season.  The A and E divisions will play a 15 week, six team season and Divisions B-D will play our traditional schedule.  THERE WILL BE NO MATCHES SCHEDULED FOR ST. PATRICK'S DAY.  If you have any questions please speak to an officer for clarification.  Good luck to all of you and Shoot Well!
******
******
Please also note that a team may add players to their roster up to week 5.  You must obtain league approval before that player plays.  After week 5, the rosters are locked in and there will be no more additions unless there are significant extenuating circumstances that must be presented to the League.  The League will post the Final Rosters on the site after week 5.
******
The Cross County Dart League would like to introduce two new sponsors to our league:
Div B – Space 303 – 303 Willis Ave. in Mineola   516-205-5596 – Capt. – Paul Batista
Div C – Dogwood Inn – 368 Dogwood Ave..  Franklin Square 516-640-5785  Capt. – Joe Pisciotta
Thank you for joining our league and we hope that you have a successful and enjoyable season!
******
Spring 2020 Standings – Week 3
******
******
LOCAL TOURNAMENTS:
Charlie Bullfrogs in Floral Park is holding a weekly LOD dart tournament every Saturday starting at 8pm.  $5/player to enter gets you in plus a drink on the house!  All skill levels are welcomed!
******
ALL MEMBERS PLEASE REVIEW THE BY LAWS!!!
******
Click below to find a list of our League's participating establishments:
Please find a PDF of the Regular Season Score Sheet here:
Remember to follow us on Facebook and Instagram…
cc_dart_league   –  Instagram
Cross county dart league  –  Facebook
Follow our sister league: